Easter in Sorrento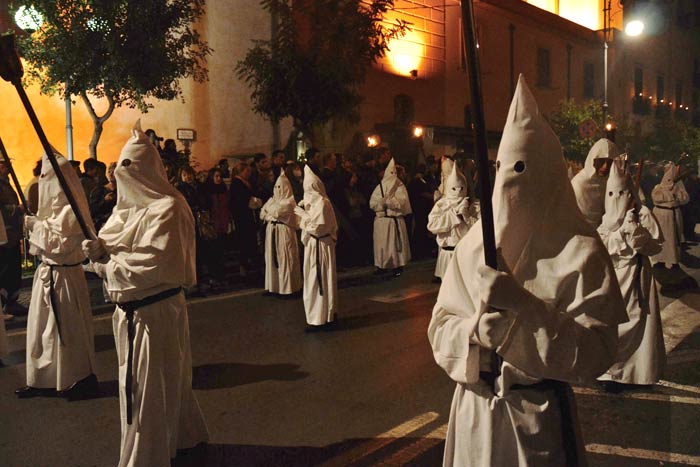 Celebrate spring by visiting Sorrento at Easter!
Experience the traditional Holy Thursday and Good Friday processions led by hooded locals
that have become famous across the globe, and participate in first person in these
two important rituals that date back centuries.
These religious processions have historic roots that can be traced back to the 1500's.
The first is organized by the Venerable Main Confraternity of S. Monica, which is based in the antique and beautiful Church of the Saint Annunziata. This is traditionally called the "White Procession" because of the color of the costumes the processioners wear. It takes place during the night between Holy Thursday and Good Friday.
This procession, by popular belief, represents the exit of the Virgin looking for her Son, captured and condemned to death. The starting time in the middle of the night, the visit to the "Sepulchres", and the return to the church at the first light of the new day all lend themselves to the drama of this popular ritual, in which thousands of people participate in perfect silence.
The second, called the "Procession of the Dead Christ" is organized by the Venerable Main Confraternity of Death, based in the Church of the Mary's Servants. It takes place in the evening of Good Friday.
This celebration represents Mary's discovery of her Son, dead on the cross. Participants in this case wear a black habit and black hood, preceding the Statue of the Our Lady of Sorrow and a beautiful Simulacrum of the Dead Christ by an unknown sculpture is carried on processioners' shoulders.
This offer is valid for stays of at least 3 nights.
This offer is valid from 18th to 21st April 2019.
Take advantage of our special Easter offers now!
We have prepared a number of exciting packages four our guests.
Special Easter Package in Sorrento
This offer is valid from 2 persons from 18th to 21st April 2019 and includes:
3 nights in half board
Buffet breakfast
Traditional Easter lunch
1 Easter gift in your room upon arrival
Free wifi
Taxes